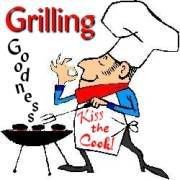 Today, Grilling Goodness is very special...so glad you could join me!
Today is my wonderful husband's birthday! He is a fantastic person, if I do say so myself. A hard-working, Christian man. The father of two little dumplings who adore him. An Ironman in the making. Respected. Admired. Inspiring. Caring. Smart. Funny...really funny...he can make you snort-laugh, no kidding.
Last year, he leaped out of his 20s and hit 30 with style...having lost 65lbs!! I wrote
30 things I love about him
...if you haven't read it, go check it out, it's fun!!
I love you, babe, Happy Birthday! It's in your honor that I move on with the questions! mwah!
Also, I must say...I did not come up with these questions. I googled 'husband meme' and found these on another blog. Sorry for not being original this week, it will not become a habit!!


~~~~~~~~~~~~~~
You can either answer these questions about yourself or mix it up a little and answer them about your spouse!!

1. Sitting in front of the TV, what's on the screen?
2. You're out to eat; what kind of dressing does he get on his salad?
3. What's one food he doesn't like?
4. What is his favorite type of sandwich? 5. What would this person eat everyday if he could?6. What is his favorite cereal?

7. What would he never wear?

8. What is his favorite sports team?
~~~~~~~~~~~~~~~~~~~~~~~~~
My Answers (About Hubby)
1. Oh boy. Any number of things. Sports...Nascar, basketball, football or baseball. Mythbusters. Dirty Jobs. Time Warp. World Series of Poker.
2. If he's cheating that day, it would be Thousand Island...but if he's behaving, he'll have Fat Free Italian or some kind of Vinegrette.
3. Er, um...
peanut butter and jelly mixed together in a bowl before spreading it on bread
Big fat Onions! (he gives them to our son)
4. Some kind of fancy chicken sandwich from Subway...and he piles it high with veggies.
5. If there was zero fat in this new chicken pot pie I've learned to make, he says it's his new favorite meal...I'll go with that.
6. Again, cheating, probably Lucky Charms...being semi-good, I think it's Strawberry Frosted Mini Wheats...being really good, Granola.
7. Underwear. KIDDING! He would never wear sequins. He's more of a glitter guy. KIDDING! He would never wear shorts so short that you could see the pockets hanging out of the leg holes. There. That's for sure.
8. MLB - Mets; NFL - Colts; NBA - uh...not sure there is one; College basketball - Memphis Tigers, of course!; College football - Tennessee Vols
How fun was that!?!? Yay! Looking forward to seeing your answers...when I return from my trip, that is!! Have a lovely, safe, fun weekend!! Toodles!