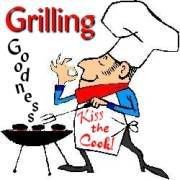 Hi all! Welcome back for another exciting edition of Grilling Goodness. I trust that you all had a fantastic Thanksgiving holiday...I know I did!!
Thank you for coming to play along!
1. Do you send out Christmas cards? Have you done it yet?
2. When you cook chicken, do you cook a whole chicken?
3. What is your favorite Christmas movie?
4. How often do you go to the grocery store?
5. Do you play games online?
6. Do you make your bed everyday?
7. What is one of your favortie websites? (Hopefully this is understood, but
please share only the G rated sites
! lol)
8. What gives you the most laughter in life?
~~~~~~~~~~~~~~~~~~~~~~~~~~~~~~~
1. I have send out Christmas cards every year since I got married, and although I try to get them done early, I feel like I'm running way behind this year. I like to do photo cards of the kids and I haven't even taken their picture yet. And now, we have this
boo boo
...ah well. The picture will be made this weekend...boo boo and all.
2. Granny, close your ears eyes...no...I have never in my life cooked a whole chicken...or a turkey for that matter. I use boneless, skinless chicken breasts for everything. Not sure if I'll ever have to stop this 'cheating'...even with a turkey...I'll just order me a yummy fried turkey...mmmmm.
3. Home Alone. Why? Because some of the best Christmas memories I have are from when I lived at home with my dad. He had a cool surround sound system in the living room. We would put this movie in and watch all the booby traps torture Marv and Harry...and listen to the hilarious screams that Marv does so well. Ah...I'm looking forward to it!
4. I used to be on the 'every Friday' schedule, but now for some reason, I just go whenever. And I usually forget something so I'd say I'm in there at least twice a week. Sounds like I need more efficient trips, eh?
5. Every now and then, I decide to waste a little time and play Chuzzle or FlipWords. I like wordy games, but I never make a point to go searching for something good. I'm open to suggestions...and then I'll have to try not to get addicted. Scratch that. I really don't have time...tell me I don't have time.
6. I think so. It's very rare now that I don't. For instance, if I know I need to pull the sheets off to wash them, then I don't make it that morning.
7.
Facebook
. I love my blogging, but you don't typically find old friends this way. And it's a great way to connect with all your friends who don't blog. It's fun, give it a try!
8. It's hard to pick. I have so many funny people in my life. My husband is a riot. My kids are just silly. And my best friend and I can, and usually do, laugh at anything and everything when we're together. It's wonderful! I count laughter as one of the many blessings in my life.