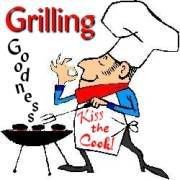 Yay! It's that time again! Time to grill up something interesting! Let's roll!
1. What's your 'dream machine' - as in vehicle? Do you think you'll ever own it?
2. Can you water ski?
3. What kind of milk to you prefer?
4. Have any of your pet peeves 'gotten your goat' this week?
5. How do you prepare your taxes? HR Block, Turbo Tax, by hand - or does someone else do it for you?
6. Did you start a workout program this New Year?
7. Do you have a certain meal that you cook each and every week?
8. When do you normally write your blog posts?
~~~~~~~~~~~~~~~~~~~~~~~~~~~~~~~~~~~~~~~
1. I have always wanted to own a Mustang. It's not so much of a family car, so it'll have to wait, but maybe someday. When I have many more gray hairs!
2. YES!! I just wish I had more opportunities to do so. I don't believe I have been since my honeymoon 8 1/2 years ago.
3. Skim milk. And there was a time when I thought of it as water, but now I'd rather have it than any other kind. I can tolerate 2%, but I really don't like to drink whole milk.
4. YES! I have a pet peeve about when people KNOW their cell phone should be silenced and they don't silence it. But that's not the worst part. Their phone will ring in this inappropriate setting and instead of hitting a button to end it, they ANSWER IT!! What in the world??
5. We have used Turbo Tax since we've been married. Before that, I used to do my piddly taxes on the old fashioned forms.
6. YES! I have been using my new elliptical machine every morning and I've also been meeting hubs at the YMCA several afternoons a week. It's lovely to have a workout partner.
7. I think we have spaghetti at least once a week. It's easy. The kids love it. And we use ground turkey and 'healthy' noodles, so it's fine for our diet. :)
8. At night. Unless for some strange reason I get a wild hair to blog during the day. There have been times when I know that if I don't go write it right then, then I'll forget what I was going to say.
Folks, I hope you've had a lovely week! I really appreciate you participating in my meme each week!
Have a lovely weekend!