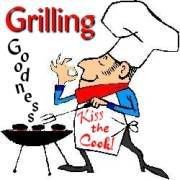 Wow...Fridays seem to roll around really fast these days....I've put on my thinking cap and come up with eight entertaining questions yet again!! Enjoy!!
1. Have your children corrected you somehow this week?
2. Are you waiting for a particular something to happen?
3. Do you chat online?
4. What is the oldest thing you own?
5. What's for dinner tonight?
6. Are you artistic?
7. Are you getting an income tax refund? Plans for it?
8. Do you use 'zero payments/zero interest for XX months' to buy things?
~~~~~~~~~~~~~~~~~~~~~~~~~~~~~~~~~~~~~
My Answers
1. Of course...my little smarty-pants kids. Evan told me that I was supposed to
turn
left because 'the arrow in the car told me to'...I had to explain that
I
used that arrow to tell everyone around me that I was changing lanes...I didn't
have
to turn left!! Oh, then there was Ella telling me that I shouldn't say 'shut up'...even if I was only talking to the neighbors dog...I should've said 'Hush your mouth, dog!'
2. As a matter of fact, I'm waiting for the buyer of my home to show up on the doorstep and relieve me of this starter home that has long been started.
3. Yes, I'm a chatter...on facebook and gmail.
4. I believe that would be a twin-size bed that used to belong to my great-grandmother. I have no idea how old it is though.
5. Dinner will be something with boneless, skinless chicken breast tenders. Maybe rice and green beans.
6. I am artistic!! In several ways. I used to do more with my ability; drawing, painting, pottery...but now it's scrapbooking, a little painting and blog designing.
7. We already have our refund!! We do not get as much as some of our friends because we choose not to loan our money to the government, interest-free, all year long...we like to give them as little as possible, but we still get a refund every year (praise God it's not the other way around!!). Our refund, minus tithe, is going straight into our savings account and THAT feels good!!
8. We have taken advantage of '0 payments/0 interest' options on many occasions. My wedding ring was bought that way...so was our furniture, tv and laptop. It's a great tool as long as you can afford the payments. That's the part I don't like...payments in general bog me down...they don't exactly
hurt
us financially, but they do take away money you could do something else with. so we don't do many of these deals anymore.
Now that was fun!!!
Thanks so much for joining me!!
Have a great weekend!!