This is my 400th post!! Wowee!!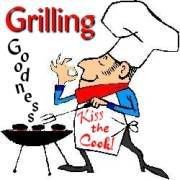 Welcome back for another installment of Grilling Goodness! I hope that you've had a wonderful week!
Let's get going! I hope you can play along and sign Mr. Linky so we can all visit each other!!
1. How long has your longest friendship been?
2. What made you happy this week?
3. Are you planning any kind of event right now?
4. Do you wear your wedding ring? What is it made of?
5. Do you shave your legs in the winter?
6. What time do your kids go to bed?
7. Right this minute, is your laundry caught up?
8. Do you want flowers for Valentine's Day?
~~~~~~~~~~~~~~~~~~~~~~~~~~~~~~~~~
My Answers


1. Longest friendship? - is with a girl named Amy...we started hanging out when we were 13. We don't get together very often, but we can always pick up the phone and it's as if no time has passed.
2. Happy this week? - Having Chicken n Dumplins at my Bible study class on Tuesday...and not gaining weight!
3. Planning? - A birthday party for my favorite daughter!! One of her little girlfriends had a 'girls only' party and she has put in her request...only her little friend is an only child...no brother in the picture. We're compromising...I think we're having the family over for pizza...and three little girlfriends will be dropped off and they'll spend the night. Evan will get to eat pizza and cake just as if it were a normal party...yet, he'll be downstairs in his bed while I campout with the girls upstairs. It'll be fun!!
4. Wear ring? - Yes, I wear my wedding ring...but I do take it off when I sleep. I have a gold band with diamonds set inside...and my engagement ring is a wide band with a princess cut diamond. Still love my ring!
5. Shave? - Yes...I shave my legs no matter the season. I don't like to be prickly!
6. Bedtime? - Don't freak. They go to bed at 9pm. I will try to back it up later this year because my oldest will be starting kindergarten. (eek!)
7. Laundry? - Are you kidding?? Does that ever happen for anyone? I'm telling myself that no one is ever caught up on laundry so I don't feel so bad about it!!
8. Flowers? - I won't turn them away...but I enjoy getting flowers randomly throughout the year for no reason better. (see here, my blog is a great place to drop hints!!)

Alright my friends, there you have it! I hope you've enjoyed the questions this week!
Have a great weekend...and be sure to kiss your sweetie tomorrow!!!