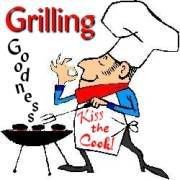 Hey y'all!! Welcome back for another installment of Grilling Goodness!! I don't know about you, but I really look forward to doing this each week. Thanks for joining me!
1. What's the worst thing you've ever sent through the washing machine/dryer?
2. Do you do any of your Christmas shopping online?
3. What are you looking forward to this Thanksgiving?
4. What did you do before you had children that you miss doing now that you have children?
5. Do you have a fireplace? (Do you use it?)
6. Do medical shows showing surgeries and blood freak you out?
7. How long have you lived where you live?
8. What is one of your favorite seasonal items?
~~~~~~~~~~~~~~~~~~~~~~~~~~~~~~~~
1. Since this just happened last week, I'll say it was when I washed a stick of strawberry lip balm. The tube was completely empty when it came out of the dryer and our pink polka-dotted clothes are, sadly, not going to be all the rage. I'm hoping that GooGone or something will clear up the cooties on our clothes!
2. I do shop a little online, mostly for hubs. He is hard for me to buy for. I can usually find what I need online...I love not having to go on a wild goose chase for gifts.
3. The whole day. Really. We gather with family for lunch. After we stuff ourselves, we play games and browse the sale papers...and then we eat again. My children are getting old enough to play a few games of their own, so I think we'll have a fun day!
4. I would say that I used to sleep in and I miss it...and while I'd love to hit 8 o'clock sometimes, I have no desire to sleep any later than that. It's a waste of the day! What I really miss is cleaning the house with the stereo blaring...but my babies were in school yesterday and I did just that!!
5. We do have a fireplace...a gas one. When we were looking for a house, we just had to have a fireplace. Uh huh. Yea. We've never had a fire in this must-have fireplace. Doofus.
6. NO! I LOVE watching surgeries! But...I have no idea if I'd make it as a nurse. I don't think it's the blood that would do me in, it would be the vomit and other bodily outputs. Ew.
7. I have lived in this house since I got back from my honeymoon in August of 2000.
8. Candles. Pumpkin Spice candles for the fall. Cinnamon Stick candles for the Christmas season. Mmmm!