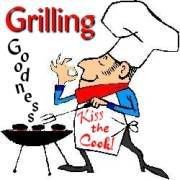 Grilling, Grilling, Grilling...let's get on with the Grilling.
1. Do you like scary movies?
2. What kind of cell phone do you have?
3. Do you have a passport?
4. Has anything sad happened in your life this week?
5. Have you ever broken any bones?
6. Did you do anything this week that you don't normally do?
7. What's the worst thing you ever had in your wardrobe?
8. Did you have braces on your teeth?
~~~~~~~~~~~~~~~~~~~~~~~~~~~~~~
1. Nope. Not really. Not even the dumb old ones that really weren't scary. I can guarantee you that I will never watch the newest one 'The Unborn'. Not happening.
2. I have a blue Krazr. It looks just like the Razr, but thinner. Yep. A Razr that went on a diet.
3. I do have a passport. It has only been stamped in the Bahamas. I'd love to add to that!
4. Yes. Our pastor (who has been at our church for 33 years) announced his retirement. Very sad because he will be sorely missed.
5. No. A tooth, yes. Bones, no. And I'm counting my blessings.
6. Yes...I AM one of the pickiest eaters evah...but I ate about half a salad this week. GASP!!! I didn't die!!
7. I had THE worst glasses a child could ever have. (thanks, dad!!) They were always HUGE...like bigger than Moon Pies!! It didn't help that I didn't have much of a nose to hold them
up either.
8. No!! No braces required on these teeth. I have straight teeth, but I'd love a good bleaching.I hope you all have a wonderful weekend! Be sure to visit each other and come back now, ya hear?