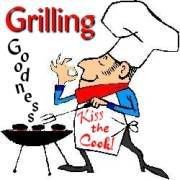 Howdy, howdy! Welcome back to Golden Goodness for another installment of Grilling Goodness! It makes my Fridays happy, how about yours?
1. Have you ever ridden a horse?
2. Have you ever run out of gas?
3. How many different schools did you attend growing up?
4. Do you have, and use, a library card?
5. Hand-wash or dishwasher?
6. Does your alarm clock beep or play music?
7. Do you know how to roller skate?
8. What would you consider one of your biggest accomplishments?
~~~~~~~~~~~~~~~~~~~~~~~~~~~~~~~~~~~~~
1. Yes, I've ridden horses...but I haven't been on one since Ella's birthday last year. To say that girl loves horses is an understatement!
2. I *think* I recall running out of gas once before I was married. I was living at home and I think I ran out of gas as I pulled into the driveway. Fortunately there was a gas can there for the lawn mower and that gave me enough to get to the station.

3. I attended five different schools from kindergarten to highschool. Then I mainly went to one college, but took a few classes at a community college...so I could actually pass College Algebra and History.

4. Ahem. No. I do not have a library card. And I've just made myself cringe at how bad that is...because, at the very least, I should be taking my children to the library.

5. Well...I use the dishwasher until it is full and then I wash the rest by hand so that everything can be clean at the same time. Now you know that our dishes pile up...every once in a while.

6. Our alarm clock does both...but for the first several years we were married, I refused to hear the beeping. The problem with that is that hubby never woke up with the music...so guess you had to be an alarm clock for the alarm clock. Now we let it beep.

7. Yes. I can get by on skates. Sometimes I don't even fall!! BUT, I would never attempt to carry a tray of food while roller skating...I don't believe I'm that coordinated on skates!

8. One of my biggest accomplishments was being Valedictorian in highschool which earned me a four-year ride to college.

I hope you enjoy your Grillin'...please be sure to sign Mr. Linky and visit the other grillers!

Have a fantastic weekend!