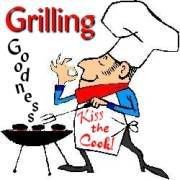 Welcome, my sweet friends, to another edition of Grilling Goodness! If this happens to be your first time playing, simply copy/paste the questions to your blog, answer them and share with your friends! Sign Mr. Linky below to let us all know that your post is up so we can all come see! Enjoy!
1. What is your favorite thing about Springtime?
2. Do you prepare special, maybe even fun, meals for your kids? Example, please.
3. What are you looking forward to this weekend?
4. Within driving distance, where do you like to go for a little getaway?
5. Laundry detergent: liquid or powder?
6. What does your spouse do around the house that you appreciate the most?
7. Do you converse with the grocery checker or pay and bolt?
8. Have you ever had an MRI? (If you feel comfortable sharing why, please do.)
~~~~~~~~~~~~~~~~~~~~~~~~~~~~~~~~~~~~~~~~
My Answers


1. I love the life that spring brings...everything turning green and blooming. It's beautiful. Unfortunately, all of that comes with pollen.

2. Other than cutting their sandwiches in the shape of hearts or dinosaurs, no. I'd really like to try some fun spins on normal food. I'd love to get some ideas today!

3. Tonight I'm going to a dinner. It's the 'finale' of the Apples of Gold Bible study I've been doing for the past two months. Our husbands are joining us; our kids are not. This program has been such a blessing to me. I'm so grateful for the opportunity to meet more mature women from my church and learn from them. I hope that my path crosses theirs more often.

4. We like going to St. Louis...free zoo...the Magic House...Lamberts along the way. We're planning a trip for this summer. Nashville is a good spot for a getaway as well...it helps that it puts us close to my dad.

5. I grew up with powder detergent. I think I've used liquid detergent since I got married...until this week. Something led me to buy a huge box of powder detergent...so far, I like it better.

6. My love helps me with the cooking and the laundry. It's fantastic. It floats my boat.

7. I must admit, unless I am greeted by the cashier, I tend to just stand there and watch my total increase. It's terrible...I should be more friendly.

8. I've had one MRI. I tore up my knee about 4 1/2 years ago and I had the MRI to see how bad it was. I did such a number on it that I needed surgery. My oldest child was a crawling 8 month old...she was more mobile than I was for a day or two.



Thank you so much for joining me once again for my humble meme! I hope you have a glorious weekend with your family!!