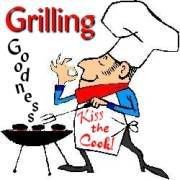 Oh Goodness...time for some grillin'!
1. When you were in school, did you study hard or cram the night before?
2. What can pull you out of a really funky mood?
3. Do you keep the invoice after you've paid the bill?
4. Do you have yard sales? Shop at them?
5. When was the last time you rode a rollercoaster?
6. Spring cleaning...do you do such things as wash your windows?
7. How often do you clean out your refrigerator?
8. Have you ever been a victim of identity theft?
~~~~~~~~~~~~~~~~~~~~~~~~~~
My Answers
1. I did a little cramming...not so much of a studier. When I did study, I simply reviewed the notes I had taken in class. During the test, I could almost tell you exactly where I wrote the answer in my notes...sort of a photographic memory.
2. Going out for dinner makes me happy. No cooking. No dishes. Unlimited coke.
3. There are some bills, like the mortgage statement, that I retain, but after I pay the phone/utility bills, they are destroyed. I pay them in person and my check is the receipt.
4. We have had one yard sale since we got married and we raked in over $900! I've had the stuff to do another one, but ended up donating most of it. I didn't want to fool with it...but when we start clearing out to move, I think I will have a yard sale. I have baby stuff to get rid of! :)
5. Rollercoaster!?!? How I love them!! I rode the Mystery Mine at Dollywood last summer. Loved it! We are planning a trip to Six Flags this summer...rollercoasters here I come!
6. [hangs head in shame] I have never washed our windows. I like to clean the ceiling fans, baseboards and underneath the sofas, but other than that, it's business as usual.
7. I clean out the refrigerator when I don't have any more bowls for leftovers. We should eat more leftovers so the turn-around will be shorter.
8. Yes...we've had our bank account stolen twice. But we recovered our money each time. We never carry cash, but me thinks we should give it a shot...especially at restaurants where they walk off with your card when you pay.
I will do my best to keep Grilling Goodness rolling, but there may be times this summer, or during our move (eventually), when I will become a slacker. Thought I should warn you!
Have a fantastic weekend!!