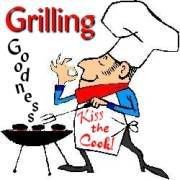 Howdy partners! I suppose I am feelin' particularly southern today or something!

Thanks so much for joining me for another meal on the grill! You guys rock!!

Play along, whenever you can post it is fine, but please sign Mr. Linky so we can all visit you!!

1. What do you do when you get mad?

2. Do you wash your hair everyday?

3. How often do you speak to your parents?

4. Your nails - painted or nude?

5. What pair of shoes do you wear most often?

6. If you could do anything you wanted to do this weekend, what would it be?

7. What's the best cough medicine you know of?

8. How do you feel about 'springing forward'??

~~~~~~~~~~~~~~~~~~~~~~~~~~~~~~~~~
My Answers
1. Depends on who I'm mad at. With most people, I shut down. If I know you well enough, I'll let you know about it. If I'm really, really upset, I cry. And then I go to hubs or my best friend to vent and find comfort.

2. Typically, yes, I do wash my hair everyday. There is a very rare day here and there where I am having a lazy day and I'll let it go...but I don't usually leave the house without clean hair.

3. I'm in contact with my dad via email at least once a week...but neither of us are huge phone people, so that is a little more rare. I don't speak to my mother very often at all...we just aren't close so we don't call each other much.

4. "My nails" are acrylic, paid for and painted. I love them!

5. It's a toss up between my sneakers and my boots. Soon-to-be in the running...flip flops!

6. I would be on the beach!! But I'm going in about a month, so I won't complain!

7. We just got Delsym for the boy. He's had one dose and I can tell already that it's working.

8. I love having longer days...but I don't like the initial loss of an hour of sleep!!!

Have a safe and glorious weekend!!!